The summer heat is unbearable on the West Coast this year and this weekend the East Bay is expected to be in the 100 + degrees again.. Luckily, we have some great places to visit where you can cool off by enjoying beautiful, refreshing swimming holes. Check out this list by 7×7, or see my recap below:
Richardson Grove Swimming Hole
Richardson Grove is in Humboldt County. You can bask in the shade of the giant redwood trees, or head toward the South Fork of the Eel River, where a few swimming holes and beaches are located.
Standish-Hickey State Recreation Area Swimming Hole
Staying on the South Fork of the Eel River, this time in Mendocino County, you can check out a large, deep swimming hole. Bring an umbrella, as there isn't much shade!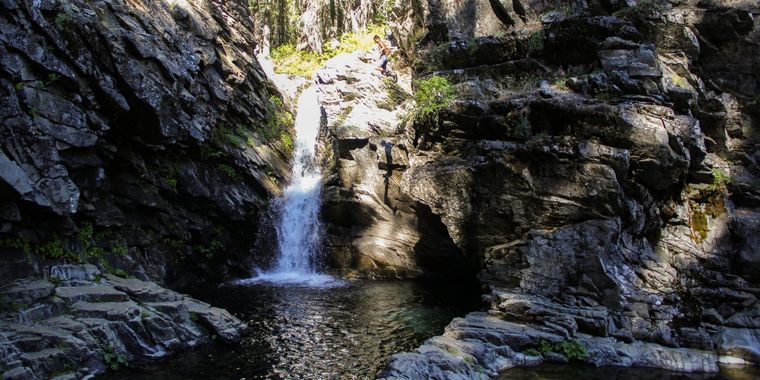 (Aron Bosworth, via Outdoor Project)
Upper Falls, McCloud River
Though best known for being an overlook and picnic area on the McCloud River Three Falls Hike, Upper Falls also has a hidden swimming hole that even stays in the shade for parts of the day.
Middle Falls, McCloud River
Just a mile upstream from Lower Falls, this is on the Upper McCloud River just southeast of Mount Shasta. It is the largest of the three falls, and slightly less accessible than its counterparts. But it has a wonderful swimming hole you just have to visit!
Lower Falls, McCloud River
Lower Falls is the most heavily trafficked of these three swimming holes, but is really good for jumping from the surrounding rocks. There is a day-use picnic area if you want to make a full day out of it!
Potem Falls
This is a hidden gem in the Redding area in Shasta County. It is a swimming hole at the bottom of a 70-foot waterfall, complete with a rope swing and jumping rocks.
Lake Anza
Let's keep this one local: Lake Anza is a man-made freshwater lake in Tilden Regional Park, so you can easily do a half-day trip from Walnut Creek! It's supervised swimming and there's a sandy beach here in the Berkeley Hills.
Oregon Creek Day Use Area
Down Highway 49, you can find the Oregon Creek Day Use Area, where a confluence of the Oregon Creek tributary and the Middle Yuba River create a great and lesser-known swimming hole.
Highway 49 Crossing
This is a popular one. On the South Yuba River, you can find huge boulders and a few lovely swimming holes. It's easily accessible from the highway and cuts through California's Gold Country.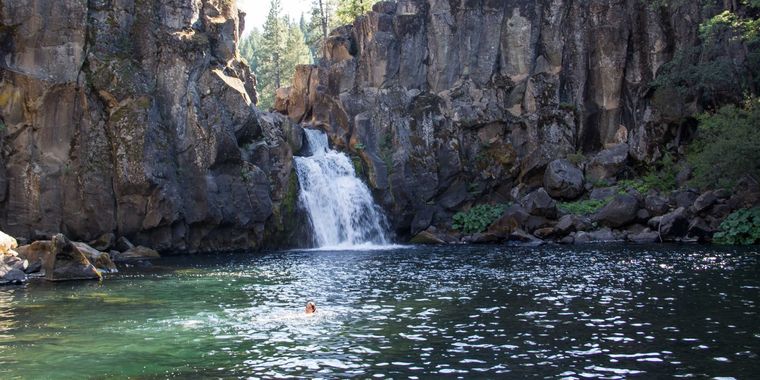 (Aron Bosworth, via Outdoor Project)
North Fork Falls
Located on the North Fork of the American River, this one is nicely secluded under evergreen trees. Enjoy several pools and a cascading waterfall. You can also enjoy jumps of up to 25 feet from the surrounding cliffs!
D.L. Bliss State Park
Now we're getting into my favorite place: Tahoe. Just North of Emerald Bay State Park, D.L. Bliss is a popular destination along Tahoe's Southwest shoreline. Beaches, clear water, and a boat launch make this a great place for a family.
Emerald Bay State Park
Emerald Bay is in the southwest corner of Lake Tahoe, and, odds are, you've been here if you are a California native. Between the swimming, boating, and hiking, you really can't beat Emerald Bay.
Meeks Bay Beach
Finally, Meeks Bay Beach has a white, sandy beach on Tahoe's West Shore. You can camp, swim, and enjoy a day at the beach here. You can also easily launch SUP boards, kayaks, and more.
Reminder: Be safe!
Swimming holes and cliff jumping can be dangerous and unpredicatble. Water levels change, hidden rocks exist, and currents shift. Please scout the areas you're planning to jump into and understand the risks involved before swimming!